Call  Drapery Crafters

    for your free in 

   Home Consultation.

      610-873-2599

    Drapery Crafters 

  Our   Design Experts

  Service All Southeast Pa.

   and surrounding  areas

            Including

     Philadelphia & Southern New Jersey

   Chester County

   Montgomery County

   Delaware County

   Bucks County

   Lancaster County

   York County

   Wilmington De.

   Middletown De.

   Elkton , Maryland

 Custom Fabric Roman Shades

 Roman Style Shades from Comfortex

 Beautiful Fabric Roman Valances 

 Cordless Roman Shades

 Top  Down & Bottom Up Option

       Drapery Crafters 

   Full service includes

# Free Shop At Home Service

# Expert In Home Advice at

    your convenience

#See Large working samples

   in your home

#See actual colors and feel  

   material

# We measure & are 

   Responsible for correct fit

# Expert Installation price is

   included 

# 1st year full service in 

    home warrantry included 

# we service all factory

   limited  lifetime warranty's .

.Shop & Save with your Local Full Service Drapery Crafters 

 Video, shows how beautiful Horizons custom workroom shades look . And how the cordless  shades work. Choose from thousands of fabric's or we will gladly use your fabric.

Drapery Crafters specialize's in Custom Window Treatments, Beautiful Interior designed Drapery / Valances, 

Window Treatments, including Plantation Shutters, Blinds, & Shades, serving Philadelphia  Pa. and surrounding Suburbs Including

Chester County , Montgomery County , Delaware County ,Bucks County ,Downingtown ,

 Exton ,Paoli ,Coatsville ,Glenmoore,Lionville ,West Chester,Boothwyn ,Kenneth Sq. ,West Grove ,

 Media, Newtown Sq. ,Broomall ,Drexel Hill ,Bryn Mawr ,Radnor Township ,

 King of Prussia ,Plymouth Meeting ,Phoenixville ,Pottstown,and the surrounding areas.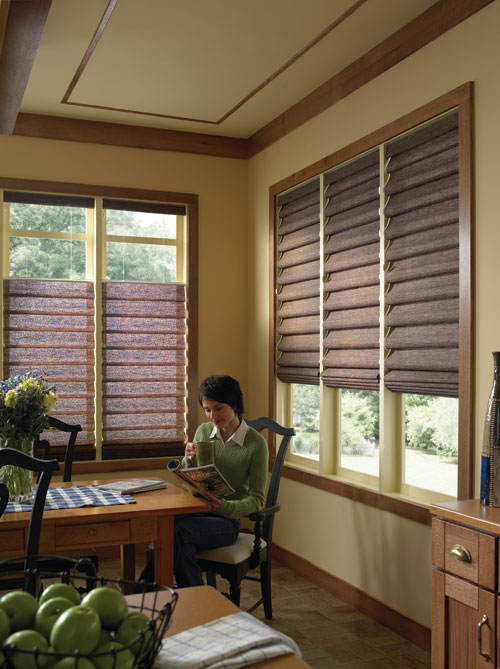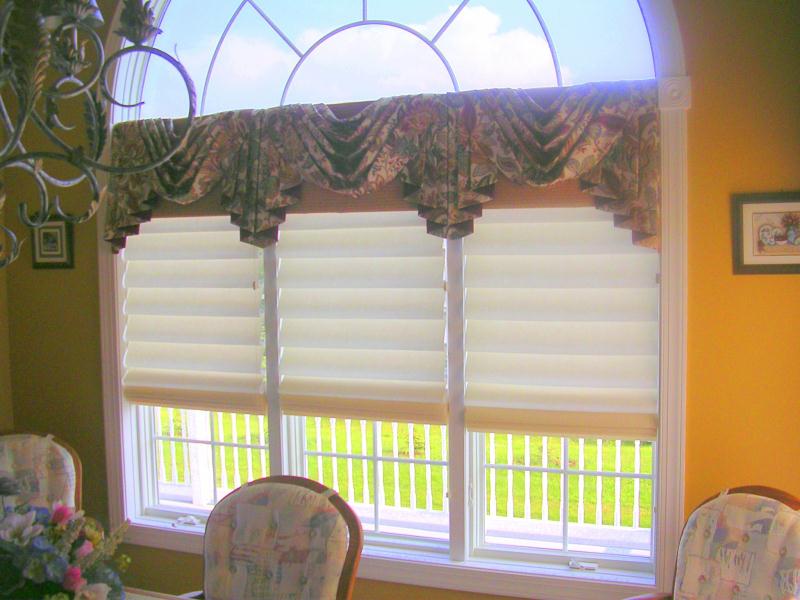 The Hobbled Roman shades above, and the flat styles below are the most popular styles of roman shades

. 

traditionally there are two main ways they are made. One is full custom workroom style . where you pick from thousands of fabrics or use your own . 

and the other is a more limited factory option where you pick from mostly  neutral but nicely textured fabrics  that the factory supplies. it is usually the most economical choice.

Faux Roman Shade (Valance) over a wood blind or a  honeycomb shade adds a nice   finishing  touch to your windows.

The pictures below shows  flat  blackout roman shades

Classic Style  flat roman shade shown above. This works with all fabrics. 

But particularly well with prints and designer fabrics where you don't want horizontal lines breaking up the pattern  

 it is also considered the softest look that will pull up in even pleats.

Roman Valance  flat style with side bands shown below over a cafe style plantation shutter

Roman Shade Valance shown below  over a  top down bottom up honeycomb shade, 

Roman Shades and Plantation Shutters are  two very popular window treatments . useing a roman valance and a cafe shutter is a unique way to  combine both  

You get the look and privacy of a shutter on the bottom. and the softness and color of a roman valance on top.  for complete privacy a room darkening  top down,bottom up, honeycomb works well

Pricewise, it's a good deal.a valance up to 48" wide cost"s $125.00 for labor, lining. and installation. plus fabric.

The cafe shutter 36" x 24" is $132.00 installed.and the cordless top down bottom up honeycomb 36" x 54" is $147.00 installed.

Faux Roman Shades (valances)  add color and a softer more finished  look to any window covering. We make these in our own workroom and they are a great value. 

A valance up to 48" wide cost"s $190.00 for labor, lining. and installation. plus  fabric. most need just one yard.

Hobbled Roman shades above with regular cords

Roman Shades above  made in Relaxed  Style,  A  elegant less structured and soft flowing look

         Roman Shades  

     Free Cordless upgrade 

                   Or

     Free top down bottom Up

        with cords option. 

                   Or

   1/2 price cordless top down

        bottom up option.

Hobbled Roman shades above  with top down & bottom up option 

A  Roman shade brings you the ideal combination of classic looks and great performance. 

 Great for both formal and casual decor alike, A Roman shade provides privacy,& light control, with either light filtering or blackout linings. and even energy efficiency to your home or business.

 When you want beautiful, high-performance window coverings, Roman shades are your answer for versatile function and attractive looks!